Case Study: Driverama
From a plan to a functioning CRM in 5 months
What is Driverama?
Driverama is a data-driven e-commerce platform for buying and selling pre-owned cars in Western Europe. Driverama has physical infrastructure in the form of asset light micro-branches and shop-in-shops which serve as car buying inspection points.
In short, Driverama's business depends on buying and selling cars. The buying portion of the business had been already established when we came on board, however the selling portion hadn't. Our job was to help build a support system for the sell-side of the business.
Situation
Let's start from the beginning. It's the second half of 2021 and Driverama needs to integrate a CRM system in their selling side of the business. Their requirements are truly spectacular.
External and internal call centre representatives must be ready to start selling within the four-months period
The CRM system must be simple enough for all stakeholders to understand (call centre agents, C-level management, Business Intelligence specialists)
Data from the CRM software must flow to specialised pipelines within Microsoft Azure cloud
IP telephony must be integrated in the CRM tool and connected to Driverama's phone number
Some repetitive tasks must be automated within the CRM software to lighten the load of the call centre representatives
Everything must go live by 2 February 2022
We at CF Agency are good at building systems, we are lucky and we love a challenge. Of course we took this project head on.
Planning
"Failing to plan is planning to fail." Ugh, we're so sick of this cliché too. Unfortunately, some clichés become clichés because they are true.
Before we got into the technical nitty-gritty, we'd wanted to understand broader context. Fortunately, Driverama was in the process of building a company-wide process map. It entailed everything from acquiring website traffic to managing car delivery. Every department had its core competencies outlined and the whole map was built to make everything go seamlessly.
We jumped on this and helped our Driverama colleagues to flesh out processes for call centre and the CRM team.
Making decisions
Based on the input from the previous step, there were three CRM tools on the short list - Salesforce, Pipedrive and HubSpot.
HubSpot on the Enterprise level with Sales Hub and Service Hub enabled became our tool of choice.

Implementation of any other CRM software would not meet the deadline.
HubSpot has a well-documented API (important for the data exports).
CF Agency is HubSpot's solutions provider, so we know what we are doing.
HubSpot has an integration with Aircall, an IP telephony solution.
We needed custom objects, knowledge base for call centre reps, sandbox for developers and super fast support
Building it out
We helped client's back-end development team to define scope of work. While they worked on connecting HubSpot to various Driverama back-end systems, it was up to CF Agency to set up the CRM modules that were to be used on a day-to-day basis.
Given that selling cars is different than B2B sales, this HubSpot implementation required many custom modifications.
Special way to keep track of cars in the pipeline (using a custom object)
Dedicated app to communicate with Driverama's back-end
Mandatory fields that had to be filled out by the reps
Dedicated team inboxes
Different user interface views for different employees and teams
Inbox filtering, domain compliance, deliverability
Advanced user and teams permissions
No problem. At the end of the day, it was all built within the HubSpot ecosystem.
To make matters slightly more complicated, we had to integrate an IP telephony extension Aircall. It allowed the call centre team to call anywhere in the world. So, we integrated it. After tens of hours of set-up, configuration and development, it finally worked.
Onboarding
You probably know that feeling when you build a really good system and everything adds up in your mind. Then you show it to people who are supposed to work with it on the day-to-day basis and every assumption about it being easy to use comes crashing down. We'd been in that situation before, so we knew that onboarding and continuous education is the key. 
CF Agency helped to build an internal knowledge base with tutorials, videos and troubleshooting sessions. Every call centre rep received onboarding materials about HubSpot and Aircall. Along with going through some intens(iv)e training sessions, the call centre reps could always turn to us and get support.
Another bright idea was to train two superusers to serve as a knowledge hub. When other reps didn't know, they always had someone within their arm's reach to help them out or to escalate the issue to us. The superusers filtered out most of the inquiries, so we were faced only with the highly technical issues, thereby demonstrating our added value.
Automating
Driverama and CF Agency identified several tasks that had to be done continuously, but took way too much time and effort. Fearing the fate of captain Bligh, we knew something had to be done to lighten the load.
The perks of the Enterprise edition of HubSpot came in really handy. We could automate the living hell out of important tasks, such as order confirmation or arranging meetings at branches.
Effects of automation were twofold. The reps could spend more time on tasks that made the company money and they didn't have to think about the automated tasks. That brought much needed relief from stress and invigorated the team spirit.
Reporting
Just as ancient gods demanded blood sacrifice, the management needed figures to lead the company to glory. Driverama had its BI team on the case, so we were only a supplementary force. Aside of their very full project pipeline, everything went smoothly - most of the data from HubSpot was downloadable through Keboola.
Unfortunately, not all the data was available. Aircall to HubSpot sync didn't give you all the details about the phone calls and Keboola didn't have an extractor for Aircall.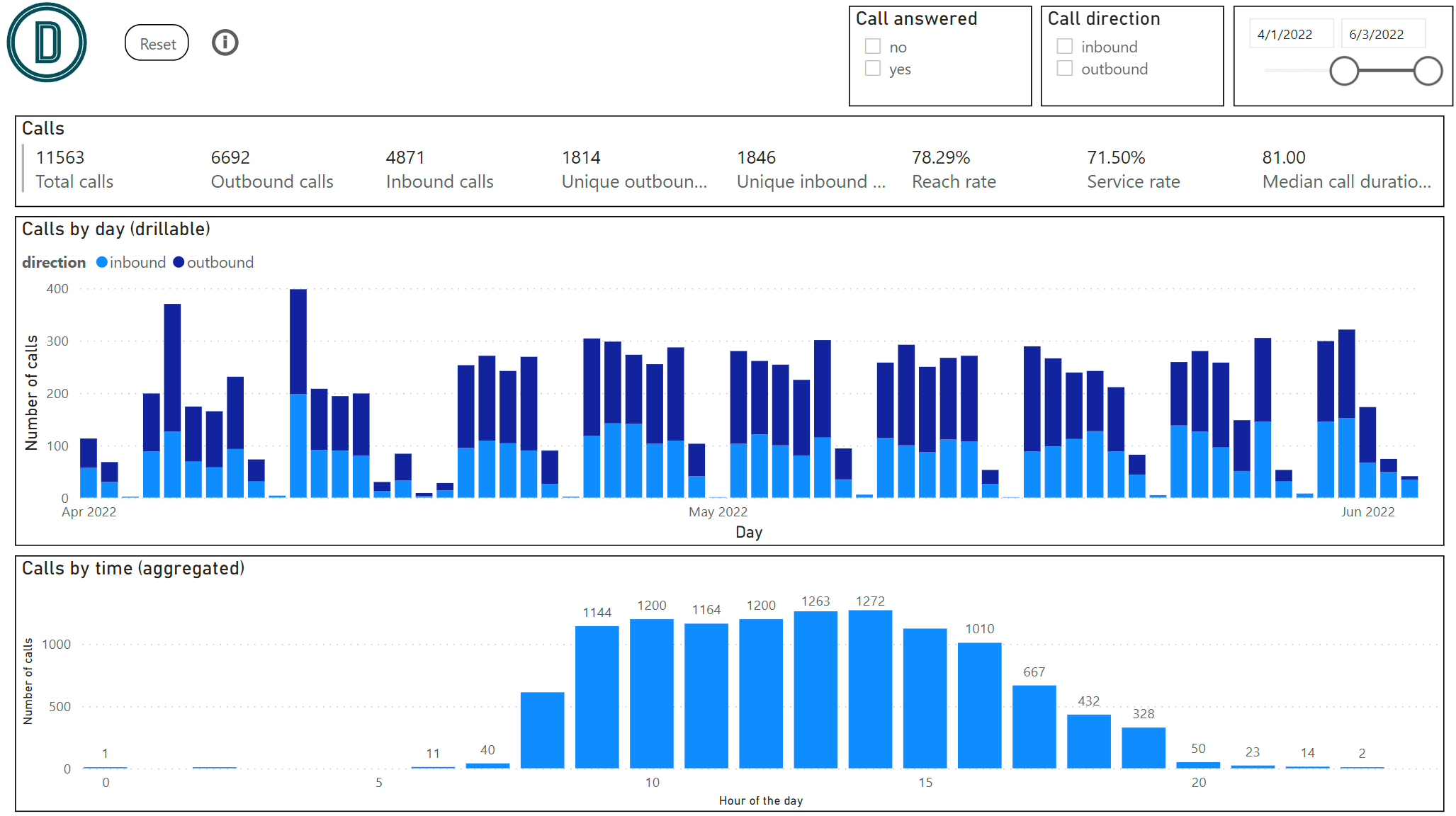 Given that Aircall has accessible API, our data engineering team built a custom extractor via Google Cloud Function. Data was later transformed in Google Cloud Platform and loaded into MS Power BI.
Management had fresh data about the call centre every day. Thanks to data from the report, customer feedback and internal coaching, the call centre reps managed to become more efficient at both inbound and outbound calls. We would like to share some pretty stats with you, but our NDA forbids it.
Final tally
Together with the internal Driverama CRM team, CF Agency managed to create a CRM structure that supports the organisation's acquisition efforts.
Within several months from the project's start, Driverama had a functional CRM software, knowledgeable sales & customer service teams and an ecosystem geared towards continuous optimisation.
When it comes to results, all we can say is that ROI of the project met expectations.
You are one step away from your dream CRM
Click the button below, fill out the form and let the adventure begin!