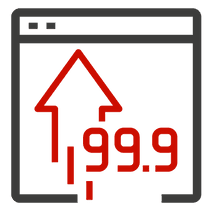 Performance Marketing
Get the most out of paid search, comparison shopping engines, paid social and display campaigns.
Every performance marketer at CF Agency has over five years of experience, so we guarantee highly skilled labour along with extensive know-how. When combined with our analytics services, you will also get fully transparent and automated reporting.
Paid Search
Google and Bing rule the search landscape and relying solely on organic results is not enough anymore. Taking advantage of Smart Bidding, remarketing and proper data collection practices, we make sure your campaigns reach peak performance and fulfill your marketing goals.
Programmatic Display & Video
Your display and video ads will reach the right audience for the most appropriate cost under our management. Open RTB auctions, direct deals with publishers and data-driven targeting - that's just one part of making your campaigns shine. We also provide extensive knowledge of international advert marketplaces, transparent reporting and advanced technological stack.
We optimise for efficiency on a daily basis, so you get the most out of your ad budget. The beauty of programmatic is that you can use it for both branding as well as prospecting or remarketing.
Comparison Shopping Engines
Users visiting comparison shopping sites are often very close to conversion. It would be a shame to lose them to one of your competitors. We can help you with optimising your XML feeds to perfection, improving bidding strategies and making sure these shopping campaigns have the best ROI in your marketing funnel.